By Ned Andrew Solomon
This article originally appeared in The Tennessee Register.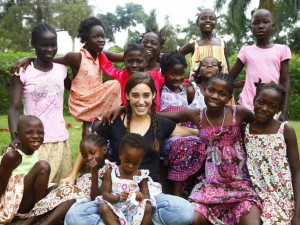 Some kids want to be Michael Jordan when they grow up. Katie Davis, a recent graduate of Ravenwood High School in Brentwood, wanted to be Mother Teresa.
"My grandmother and my mom always liked her," said Davis. "So whenever we had to do a book report on the biography of a famous person, I'd choose her."
Her parents accepted Davis' future plans with a typical grain of salt, but their daughter never wavered from her aspirations. At 15, she declared, "I'm going to do mission work overseas after high school."
The notion didn't thrill her parents, who were hoping she'd head directly to college. As senior year approached, Davis pushed on, and immersed herself in research about mission opportunities in Africa or India. Trips were planned to both countries, and then fell through. Undeterred, Davis began contacting locations directly, and a volunteer coordinator at the Amani orphanage in Uganda called her back.
On fire, but still without her parents' blessing, Davis began readying herself for a Ugandan trip during her senior Christmas break. After much persuading, Davis' mom, Mary Pat, agreed to accompany her.
The two departed, and not long after arriving in Uganda, Davis was hooked. She recalled, "I was instantly in love, was at home, and was willing to drop everything to stay there."
Amani was, by Ugandan standards, a beautiful orphanage. It was well staffed, including several volunteers from America. Davis quickly bonded with the children, who were aged newborn to six. "You spend a lot of time cuddling, playing with the babies, changing diapers, feeding them, putting them down for naps, giving them baths," said Davis. "It's so much fun."
One day, Davis was approached by a Ugandan man named Isaac, a pastor who ran another orphanage called Canaan on the other side of the river. He invited Davis to visit Canaan, which housed about 100 kids, aged 2-18.
There's no shortage of orphans in Uganda. Parents die of starvation, from AIDS, or at the hands of the LRA – the Lord's Resistance Army – a particularly violent guerilla faction in Uganda. If that weren't enough, the country is full of kids simply abandoned by young moms. "There's no education to prevent people from getting pregnant, so a 15-year-old doesn't necessarily connect the act of sex with pregnancy," said Davis. "All of a sudden there's a person growing inside her, and she doesn't know why. So it's very common for her to abandon that baby, because she didn't want it."
Isaac's goal was to start an orphanage school, beginning with a kindergarten program. There's no public school system in Uganda – students pay a fee for their education – and the pastor was supporting 100 students, with limited funding from some American churches. His wish was to establish a school where his kids could attend for free, while other children in the community paid a small tuition.
After observing Davis interacting with the kids, he asked her to be the school's first, and only, kindergarten teacher. "At that point I was ready to do anything to stay in this place," Davis said. "I told him I wasn't qualified to be a kindergarten teacher. He didn't care."
When mom and daughter returned to the states, Davis tried to convince her dad, Scott, to let her go back to Uganda instead of beginning college in the fall. After much negotiation he reluctantly agreed, on the condition that Davis stay for nine months only, and attend college in the states the following year.
Ecstatic, Davis began transforming herself into an uncertified, but extremely passionate kindergarten instructor, talking with teachers she knew from her parish, Holy Family Catholic Church in Brentwood, and spending a great deal of time gathering materials at the Parent-Teacher Store.
She also devoted her after school hours to "fund-raising like a madwoman". Her goal was to raise enough money to provide the kids at Canaan with nutritious meals, by adding protein to their typical diet of rice and posho, a doughy cornmeal concoction. She had hoped to collect $3000, enough to feed 100 children every day for a year. She ended up with $26,000, through organizing events like a 5K, and generous private donations.
At the end of July, armed with suitcases jam-packed with books, crayons, paper and other supplies, the high school graduate returned to Canaan. Since only seven kids at the orphanage were of kindergarten age, Davis knew she'd be getting her feet wet before a small audience. "We were hoping to gradually build it up, because we didn't even have enough money to make a building," explained Davis. "They turned an old barn into my classroom, which really smelled wonderfully!"
Unbeknownst to her, word had gotten out about the new teacher in town, and on her first day of class she faced 138 students. Although the national language of Uganda is English, the majority of the kids speak a variety of tribal languages and dialects. "I have learned that you can communicate very well without words," said Davis. "There is much that you can say with facial expressions and tone of voice."
As Davis led her students through rudimentary lessons in English and Math, five Ugandan women observed from the back of the room. Those women were preparing to, at some unidentified time, lead their own classrooms as the school expanded. Occasionally, one of the five would take a turn conducting a lesson. "Then I would sit in the back and be the human Xerox machine," laughed Davis. "Every day I would go home and make 138 worksheets, since we didn't have a copier!"
One day, an event took place that would alter Davis's primary mission in Uganda. She followed a pair of seven-year-old twins to their home after school, as she frequently did with other students. There she found four older siblings who were not attending school, because they didn't have the fees. She later discovered that 75% of the children in her village were in a similar situation.
For Davis, it was an eye-opening revelation. "No wonder they're poor," she said. "They don't get an education, so they can't grow up and get a job. They don't have an income, and when they have their own children they won't be able to send their children to school. It's an awful cycle."
She decided to use her leftover donated money to educate the entire family. She found placements for them in area schools, paid their tuitions for a year, arranged for them to get two hot meals each day, and bought their uniforms and new shoes – all for only $250 per child. She also paid for them to have a doctor and dentist visit, which added $50 to the bill.
"I come from a place where we spend $300 a month on gas for our four cars," said Davis. "We're spending $300 a week on groceries. So I thought if we could get the word out, we could send more of these kids to school."
Get the word out she did. Communicating with her dad through a Ugandan Internet Café, the two established a non-profit organization called Amazima Ministries International. While her dad worked on the legal issues of creating the corporation, Davis went through the village with her translator, Oliver, meeting with pastors and teachers to identify children with the greatest need. "These kids started pouring in, and I said we could take 60," Davis said. "Well, I now have 150, due to my inability to say 'no", the need, and the fact that God kept blessing me with more and more money."
Seven of those 150 orphans actually moved in with Davis, rescued from homes with deceased parents, or those living with aging caregivers who could no longer manage their upbringing. She hired an 18-year-old Ugandan woman named Christine to help her with caring for the kids, cooking and doing laundry.
That help came in especially handy on Friday nights, when Davis would host a Bible study and sleepover for hordes of kids. "We'd cook about half my weight in rice and beans, serve it up to everyone, and then they'd sleep in every nook and cranny in my house," said Davis. "Twelve would sleep on my bed, while I'd grab a spot in the corner on the floor. In the morning we'd cook about 50 pounds of porridge and then the kids would go home."
Davis returned to the states, as promised, in April, and will attend Belmont University in the fall. Her work continues in Uganda, thanks to a network of responsible Ugandan individuals, including paid staff Oliver and Christine, and volunteers from America who help keep the non-profit running, along with regular e-mail communications, weekly phone calls and funding wired to Uganda from Davis.
Davis will return to Canaan and her adopted family for six weeks starting in July. In the meantime, she's busy drumming up more sponsors here in the states, to ensure that the 150 kids she's committed to can continue in the Ugandan school system.
"If I had a choice, I'd go back tomorrow and I wouldn't come home for a really long time," said Davis. "But I've been very blessed with very passionate people there and very supportive people here. So I feel like God's kind of saying, 'good job, but I'm taking care of everything, so go to college!' "
For those interested in finding out more about Katie and Amazima Ministries, visit the Amazima website.