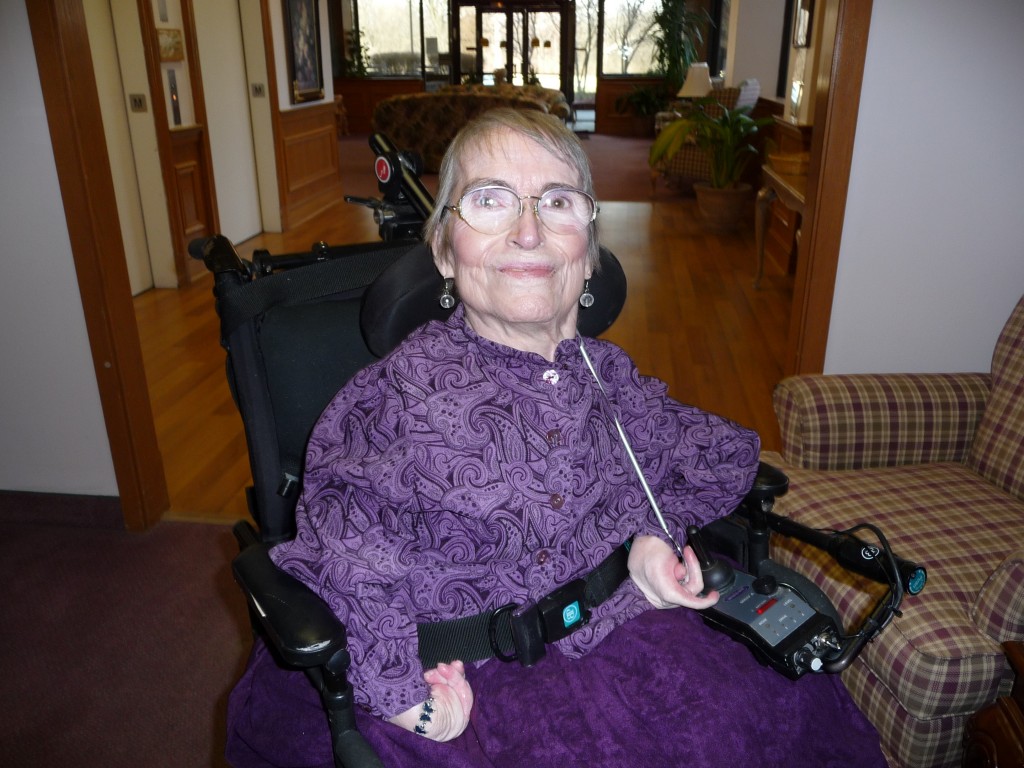 by Ned Andrew Solomon
Jackie Page's mission throughout her professional and personal life has been about two things: access and attitude. Born with quadriplegia during the depression in Asheville, North Carolina, Page had to adapt to life with few resources besides her own self determination.
She came a long way to a BA ('63) in Sociology, an MA ('64) in Counseling and an EdS in 1989, all from Peabody. Until her undergraduate education, Page was taught at home. In her earliest years, that amounted to little more than 90 minutes two days a week. "My mother worked nights as a private duty nurse," recalled Page. "If she had to sleep, I'd have her put a textbook on my table, and I'd read. The teacher would get so aggravated, and say, 'well, I'm not up to there yet.' But there was no TV; I didn't have anything else to do except read."
Page became the first Peabody student in a wheelchair to get a degree. In later years she broke through other barriers as a disability advocate, and in her work with Outlook Nashville here and Easter Seals in Asheville. She is best known for her nearly three decades as director of the Metro Government Disability Information Office. In that role, Page was a regular fixture on panels and at conferences, spreading public awareness about the needs and rights of those with disabilities.
"It was a dream come true to be able to introduce clubs, organizations and classrooms to someone who could describe the world as seen by a person with a disability," Page said.
Retired in 2005, Page has recently encountered significant health challenges. Rising medical costs and a dwindling retirement income forced Page to sell her home and give up her independence. She currently resides in an assisted living center in Nashville, dealing firsthand with the consequences of a state that has virtually no home and community-based services or funding for individuals with physical disabilities.
Which brings us back to access and attitude. "If you have the appropriate attitudes, then you will have already done a lot of these things, and not needed magpies like me saying, 'when are you going to put this in place?'" Page said.
"You can't have access without attitudes. And it's difficult for people to learn what a person with a disability expects from others, unless there's access. So it's all intertwined."