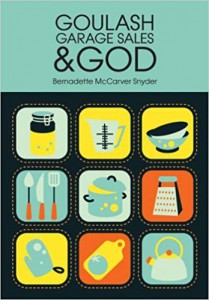 While at St. Bernard Academy, Bernadette McCarver Snyder was in an oratorical contest and competed with an original speech. She won at the school and city levels, but then fell just short in the state finals. In her senior year, her reputation for being an excellent communicator landed her a co-editor position on the school newspaper.
"We worked hard on that newspaper that year and we won this award from the State of Tennessee for being the best high school newspaper from a school our size," said Snyder. "So I thought, 'I'm destined to be a writer!'"
Now, at 82 and living in St. Louis, Snyder's "destiny" has produced 36 books for a variety of Catholic publishers, many of which have been released in other languages. She also contributed 16 years of columns for The Sunday Visitor, wrote numerous magazine articles and countless scripts for television and radio commercials.
She is not slowing down, having just signed a contract to write a prayer book for seniors for Bayard, Inc., formerly Twenty-Third Publications.
Snyder was born in Queens, New York. Her parents were originally from Nashville, but her father had moved north for a "great business opportunity". Unfortunately, he lost everything in the stock market crash, and was forced to return to his Tennessee roots." Like a lot of people today, he couldn't get re-established in a new job there," Snyder said. "But he could in Nashville."
Snyder was five years old when she was enrolled at Saint Ann School. After graduating eight years later, Snyder spent the next four years at St. Bernard. She would have liked to continue her education at Vanderbilt University, but family finances wouldn't allow it. "My folks had started over, but they hadn't gone that far!" said Snyder.
Instead, she took the employment route. "I did a lot of freelance writing; sent stuff off and got it rejected," recalled Snyder. "Then I ended up applying at an advertising agency, and started writing radio and TV commercials."
Her impressive work in that position opened up an opportunity to apply for a more prestigious job with a national advertising firm based in St. Louis. She was hired soon after. "And I moved here with my old beat-up car, some clothes, and my typewriter," Snyder said.
At the new job she did copywriting as well as production for tv and radio. It involved some travel to filming and recording sessions in other cities, and she would occasionally head back to her old haunt to produce ads at Chet Atkin's legendary Nashville studio.
After getting married to Bill Snyder she continued to work for a while, then elected to stay home to care for their newborn son, Matthew, taking freelance writing assignments to help make ends meet. Then a friend told her about a marketing position with Liguori Publications, a Catholic publishing house. She wasn't quite ready to get back into full-time, out-of-the-home work. "But I went out and interviewed, and they said, 'can you start Monday?'" Snyder said.  "So I did."
One of her primary responsibilities for Liguori was composing the back cover copy for their newly accepted book projects. While reading through those submissions, she thought perhaps she could do even better herself. "So I wrote a manuscript, and I presented it to my good friends," said Snyder. "And they rejected it! I thought, 'I can either show them, or give up'. So I sent it to Ave Maria Press of Notre Dame, and 10 days later they bought it."
That book was called Hoorays and Hosannahs. She followed it up with a manuscript based on her sister's creative penchant for decorating the altar at St. Henry Church for folk masses. It became a three-book series about altar decorating for Twenty-Third Publications.
In 1982 she decided to try her hand at writing a humorous book, inspired by popular author, Erma Bombeck. The completed manuscript was entitled, Graham Crackers, Galoshes and God: Everywoman's Book of Hope and Cope. "Liguori had never published anything that was funny," said Snyder. "So I asked them who I should send this manuscript to. And they said, 'Let us take a look at it.'
"And I was on the publishing board, so I got to vote!" Snyder laughed, admitting she had no "couth" or "shame" in the self-promotion department.
The decision to publish the book turned out to be a very good one for Snyder, and her employer. "It was a small book that only cost like $3.99 at the time, and I sold 70,000 copies," Snyder said. "After that, they kind of got interested in my writing!"
Since that book was a huge success, it produced a sequel, More Graham Crackers, Galoshes and God. Eventually the two volumes were repackaged into one book, and sold for a more contemporary price.
Last year, Snyder was inspired to continue that laugh-inducing literary legacy. "I had loved writing that book, and I thought I'd try to do another one that would be sort of a 'time travel'," explained Snyder. "I went back and started with stories of things that happened when my son was a little guy – now he's a middle-aged six-footer! And things that happened with my husband, who's no longer living. Then I brought it up to the present time."
That new book, Goulash, Garage Sales and God, was released a month ago by Ligouri. This past weekend, Snyder attended an autograph party for her 36th book in St. Louis. She's done a multitude of these events over the years, including several at St. Mary's Bookstore in Nashville.
So, what is the secret to her success, and her longevity in such a competitive marketplace? "I sort of take everyday happenings and then tie them into prayers, for just ordinary persons," said Snyder. "And people tell me, 'that happened at my house – have you been looking in my window?' They seem to really identify with something funny that's happened to me, or something sad."
Besides continuing to write what people seem to "identify with" and publishers are savvy enough to buy, Snyder is an involved and dedicated member of St. Monica Parish in Creve Coeur, Missouri. In honor of a weekly rosary group initiated by her mother in Nashville that met every Tuesday morning for over 20 years, Snyder invited a few acquaintances to her house to do the same. That casual invitation has evolved into a 30-year tradition.
"Every Tuesday we talk about whatever has been happening in our lives the past week and discuss whatever is wrong in the world at large," said Snyder. "We say a lot of Hail Marys, share a few tears and a lot of laughs. It has been a prayer/therapy group with Mary watching over us."
Over the course of her lengthy career, Snyder has seen a lot of changes in the business of publishing, and just getting the word out in general. This year, Snyder "entered the technological world" with a blog, titled Skropborsels & Mirthy Morsels, which features, according to the author, "Amusing musings, meditation, observation, mispronunciation, obfuscation – and who knows what might show up in this space?" The blog can be found at www.stlouisreview.com/rP3.
This article first appeared in the Tennessee Register.