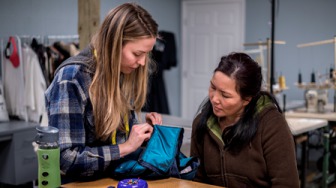 From all appearances, Nashville is the latest boom town. People of all ages are moving here, and rents and home prices reflect that. New businesses are opening up; in fact whole industries are blooming, seemingly overnight.
All of this positive commotion has had an impact on Catholic Charities too, specifically its four-year old jobs training initiative for refugees, the unemployed, underemployed and underserved. To meet the needs of a burgeoning clothing industry, Catholic Charities has expanded the program's light manufacturing focus to include a brand new Sewing Training Academy.
The idea for this new venture began in June, 2014, when Megan Stack, Catholic Charities' department director of Family Assistance & Community Employment, was contacted by Otis James, a local fashion designer who had heard about the agency's employment training.
James brought along Van Tucker, the CEO of the Nashville Fashion Alliance, an organized group of professionals dedicated to building a sustainable and globally recognized fashion industry in Nashville.  "Otis was looking, at the time, to hire a qualified commercial sewer, with very little success," recalled Tucker. "We were in the midst of developing the core strategies and objectives of the NFA, and he knew that having skilled commercial sewers was going to be critical to our mission."
Unfortunately, at that time, the jobs training program didn't fit James' needs. But from that initial meeting, conversations continued and developed into a concept of providing training in commercial sewing to individuals from underserved populations, so they could earn a living wage while supplying Nashville with a desperately needed skilled workforce.
"All along the way, we knew that this could be a key component to meeting a need, not only meeting the need of the fashion industry, but also for Catholic Charities in providing another pathway," said Stack. "It would allow us to work with people, and to walk that path with them to find a career. In this case, a career in an industry that's booming in Nashville, where there are jobs available right now."
According to Tucker, a global manufacturing consulting and research firm recently listed apparel manufacturing as one of the best ways to bring manufacturing back to the US. "There is great demand – and we expect that demand to grow significantly – for high quality commercial sewers, yet due to the off-shoring of apparel manufacturing in the 80's and 90's, there are very few qualified skilled workers," explained Tucker. "In order to sustain our growth in the fashion industry, we must have access to skilled workers."
The best news is that the demand is already here. Omega Apparel, Incorporated, a military-veteran owned supplier of dress trousers, slacks and skirts for the US Military located in Smithville, is getting ready to open a facility here. "Omega is hoping to hire 100 employees when they open in Nashville," said Stack.
In fact, Dean Wegner, Omega's president/CEO, believes within five years the Sewing Training Academy could add 1000 jobs to the local economy. With a strong stake in the outcome, Wegner helped Catholic Charities staff develop the Academy training curriculum. It is an intensive month long, four days a week training. A new coordinator and instructor, Trishawna Quincy, was hired to run the Academy and screen applicants.
Quinty's first cohort, which began Monday, August 31, was filled with its maximum 11 students. "We want to make sure there are opportunities for a lot of one-on-one with Trishawna," said Stack. "We have this group setting, with a lot of machines, but we also want to keep it small. I think it leads to better training."
Word has gotten around. Students are already lined up for the first three classes, and more are calling to get on a waiting list. Employers are calling Stack too, asking how long it will be before the first graduates can come to work.
As designed, those graduates will be refugees, immigrants and even some native Nashvillians who fit the unemployed or underemployed requirement. "We don't want to turn anybody away, but we are still focused on the area's underserved population," Stack said.
However, Academy organizers are looking to create job opportunities for the underserved beyond this area. One of their goals in creating the Academy was that it could serve as a model program, and that the training could be replicated in another Tennessee county, or anywhere else. "We wanted to test it out," said Stack. "Once we tweak our curriculum and get it where we want it, we can look at making it into a certified program."
With Catholic Charities, Omega Apparel and the Nashville Fashion Alliance collaborating on this project, the Sewing Academy is an atypical blending of private sector and non-profit philosophies, expertise and resources. In addition, the Academy was able to get some necessary start-up funding from the Frist Foundation, the Memorial Foundation and numerous private donors. "The development of this program is an excellent example of the power of community," said Tucker.
The Nashville community is absolutely on board. On Wednesday, Sept. 2, Nashville Mayor Karl Dean spoke at a ribbon cutting ceremony – actually, fabric cutting – along with Congressman Jim Cooper, Catholic Charities Executive Director Bill Sinclair, Dean Wegner and Van Tucker. About 50 people showed up, including the board of the Nashville Fashion Alliance.
Stack was thrilled at the enthusiastic response, to a program that has taken a year to begin operations. "I think what kind of makes it complete is that at the end, there are jobs waiting," said Stack. "It's not that we're trying to create them, or that we're trying to reinvent the wheel. We're just filling in to get to that end goal. If we can help people by walking that pathway with them to get them to that job, that's everything for us."
This article first appeared in the Tennessee Register.